In China, where activities are difficult, the brothers and sisters of the Community, share with us their "visitations", to those who are isolated and fragile, in the image and likeness of the Virgin Mary.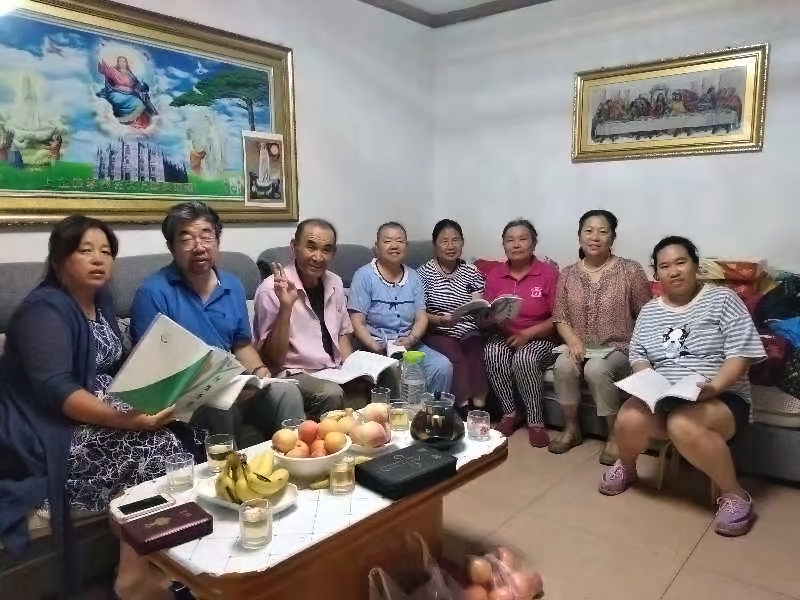 A visit to Xing's house
Xing is a sister determined in faith.
In November 2017, she was diagnosed with uterine cancer with metastasis. Although she was very confident in the battle with the disease, the negative effects of the treatment and chemotherapy sometimes caused her indescribable pain.
I remember that when she started chemotherapy for the 4th time, we went to see her in the hospital. We didn't know what kind of words to use to comfort her. By just being with her, we discover that the pain was gradually disappearing. We prayed with her with songs, and when we were about to leave the hospital, her pain had completely disappeared she had a smile on her face and looked happy.
During her treatment (the 6th chemotherapy session in July), she wanted to attend the annual meeting of the Community. This wish was granted by the prayers of the brothers and sisters, for from October 2 to 6, 2018, she was able to participate in this meeting. This made her very happy. This is a wonderful gift from the Lord, because the doctor had said that the illness was very serious. "Hallelujah!" Thank you, Lord! Praise God! Praise God! »
At the father's of our sister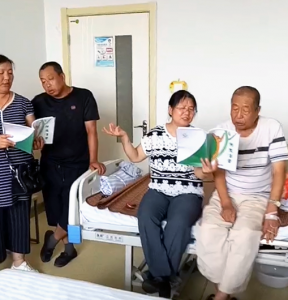 On July 16, 2018, we went to the hospital to visit the father of a sister who had lung cancer that had spread to the liver and lymph.
We made an appointment at 3:30 p.m., but by 3 p.m., he was all agitated in his hospital bed. He went to the balcony and then to the hospital door. He kept asking the family, "Why aren't they still here? ", "Why aren't they still here? »
When we came, he was happy as a child. He didn't like to sing, but when we started praise, he was reading the songbook attentively and prayed with us.
He returned to heaven on August 16, however, his desire and joy to meet us still remain in our minds, it motivates us to keep our trust and our determination to make good Visitations. Once again, we have seen the value and importance of these visits.
With a woman who has mental illness

Among the people we serve is also a middle-aged woman with mental illness, who has only one brother living in a far-away country.
This summer, the mental illness was extremely serious. In a particularly irritating and frightening mood, she said she heard a voice that pushed her to commit suicide.
On August 30, 2018, two sisters went with her to the doctor's, but as she did not have a family approval to be admitted to hospital, she was sent home with medication.
In order to fight her fear, every day, someone went to see her at her house at a specific time. During that time, we helped to organize the room, clean the garbage and do the dusting.
Two days later, we noticed that her mood had improved and she no longer suicidal thoughts. This improvement is linked to taking medication, but also to she knew that someone would accompany her every day. We continued this service until September 4, the day her brother returned from abroad and transferred her to the hospital.
I remember that when we accompanied her to the hospital, she once told us: "After leaving the hospital, I would also be the messenger of charity, to accompany those who suffer. "It's the fruit of charity!
She left the hospital at the end of September. She considers us important people in her life. She calls us from time to time to talk about herself. We continue to visit and accompany her.
Testimony of Hwei: a visit to a priest who is suffering
It had been more than ten years since I had met Father Y. From what I remember, he was a very kind person. Never reproaching, he laughed all the time and told us funny stories about his parish.
Two years ago, when I was sick, a nun came to visit me and told me about the situation of Father Y whom she had just visited. I learned that he got injured a few years back, but I was busy and had no opportunity to visit him. I said to myself, "When I am better, I will visit him. »
After being sick for a few years (stroke), I was still far from being well when I learned that the "Visitation" service was going to go to Father Y's house. My mother and wife then said to me, "We're going! And you? "Reluctantly I answered: "I'm going as well, I'm not afraid of anything! "When I said it, my heart was quite embarrassed because I hadn't left the house for a few years being bothered with my movements, and I was afraid I couldn't go. I was afraid of walking too slowly, disturbing and delaying the group. In addition to that, as the national holiday approached, train tickets became more difficult to buy… and I thought of other reasons telling them to myself. Then, when I see Father Y, what can I tell him? Father, you have recovered very well, great, if you continue to work hard to recover, you can certainly improve, you will be fine next year, no problem, or again: Pray to my father, God will make you better, ask him and God will take care of you.
Being a patient myself, how many times have I heard this kind of consolation and encouragement, and it is probably the same for Father Y. Of course, these words are correct and I am very grateful when I hear them. "Real pain is the suffering that people endure in silence and who do not want others to feel sorry for them and comfort them. "says George Sand. In fact, in front of such a patient, these sentences will seem superficial, won't they?
So I decided to go, even if it is cold, even if I needed to climb mountains and the waters deep.
At the day of departure, we arrived at dawn at the station. Three brothers were already there for the check-in. Thank God I didn't miss the train. As planned, two priests boarded the "special train" of the Visitation. In the train, we're already with our brothers. Then a sister came to join us, she helped prepare the trip. The group is then complete. It's was a long trip. My heart is anxious, it was like alifetime. Finally,we have arrived in front of a small bright courtyard, I wondered what mood the young Mary was in at Elizabeth's door with a mysterious message? In what arrangement did she visit her cousin?
Father Y's family welcomed us. Everyone rushed into the house to see him. As my legs are slow, I came in last. Everyone around the bed greeted him. Father Y asks my mother as she entered the house: "How is your son?" When I came forward, Father Y smiled and said: "You are much stronger than I am. "We exchange simple greetings and profound blessings. Father Y gave a smile to each one. I don't see the bitterness of someone who's sick. He's very calm. Xie Wanying said it well: "White flowers are better than green leaves and thick wine is not as light as tea. "If a heart is light and transparent like water, and it is by the grace of the Lord.
A father, in his sharing, speaks of a French woman, Marthe Robin. I thought I would "visit" Father Y like a sick person, while in the end I found in him the strength to continue to live with optimism, like PG who had found the strength in Martha Robin's bed. "If you don't really accept to suffer, you will hardly have any new hope," said Lu Xun.
Mary experienced during her pregnancy (maybe) morning sickness, weight gain, contractions and pain and finally gave birth to Jesus. Everything was only possible with her 'Yes'. Two thousand years ago, she was at her cousin's door and she had to be at peace with herself. It seems that God brought me here to heal me and to give me the strength to accept the small tribulations of my own life and move forward. Marthe Robin tells us that "Jesus does not ask us at all to seek suffering, but when it comes, let us not reject it, because he is a caring friend". Then, at the end, I said in Father Y's ear: "I offer my pain for you". Father Y, always very calm, replied: "Yes… okay…" Then we said goodbye.