February 2 marks the Feast Day of Consecrated life - Here's some news of the Formation House in Paris
"Dear Consecrated brothers and sisters, you are simple men and women who caught sight of the treasure worth more than any worldly good.  And so you left behind precious things, such as possessions, such as making a family for yourselves.  Why did you do this?  Because you fell in love with Jesus, you saw everything in Him, and enraptured by his gaze, you left the rest behind.  Religious life is this vision.  It means seeing what really matters in life.  It means welcoming the Lord's gift with open arms, as Simeon did.  This is what the eyes of consecrated men and women behold: the grace of God poured into their hands.  The consecrated person is one who every day looks at himself or herself and says: "Everything is a gift, all is grace". 

The Holy Father started his Homily on February 2nd with those words, which express what a gift Consecrated life is, for the person called, as well as for the whole Church!
11 women have come for 2 years in the house of formation in Paris (France), in order to keep discerning and deepening their vocation, thanks to a strong prayer life, fraternal and community life, and an intellectual, spiritual and human formation. This year, they come from Vietnam, the USA, Burundi, Rwanda, Cameroon, Guinea, the Netherlands, and France, which enables us to live the international dimension of the Emmanuel Community in our daily life! We thank you all for your brotherly support and prayer.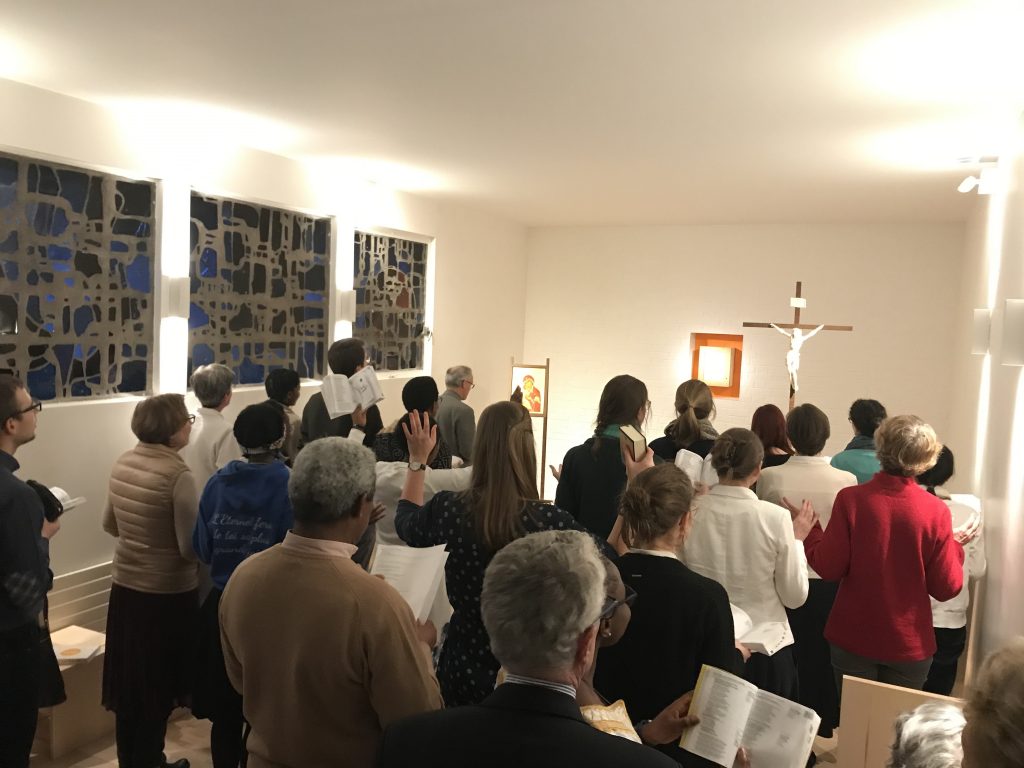 To have a glimpse, here are 2 testimonies of our sisters :
My name is Therese Miller I come from St Paul Minnesota in the U.S.  It is my first year at the house of formation. There aren't any Consecrated Sisters in the U.S. yet so this time of formation is really precious to me. It is the first time I have gotten to live in fraternity with Consecrated Sisters and to see in more concrete detail what it means to live Consecrated life in the Emmanuel Community. It really has been a time away with the Lord, a chance to grow in intimacy with Him and to live in the graces of the Community in all its richness. I feel that this time is really a time for building a solid foundation on which to live this vocation and that foundation is Christ. I thank the brothers and sisters who have made this time possible by their prayers and support it is such a gift and a grace.
– – –
My name is Mireille, I come from the Netherlands and I am in the second year of the formation house. For me, this time of formation in the Consecrated life is not first of all an intellectual formation, even if the lessons we receive deepen all the other aspects of our life, but as to say, a complete human formation. This is expressed particularly in fraternal life: learning to live with (and not: next to) my sisters from different cultures, listen to their needs and desires and express mine, forgive and ask forgiveness, share difficulties and joys and experience common prayer. These key experiences are nourished by the lessons, meditation of Scriptures, adoration, community life (household, activities) and evangelization. The Holy Spirit forms us in the ordinary to transform us to become extraordinary children of God!