"We never come out of a crisis unscathed... we come out better or worse," says the Pope in his book: Let us dream (December 2020). In this book, born of his own experience of confinement, the Pope exhorts us, in a direct and free tone, to dream and to change.
We went to meet Father Charles Rochas, parish priest of Saint-Nizier in Lyon, who translated the book in French, along with British journalist and author Austen Ivereigh and Natalia Trouiller, who lives in Lyon. Trough this interview you will discover why the book is worth reading.
Collected by Caroline Lefévère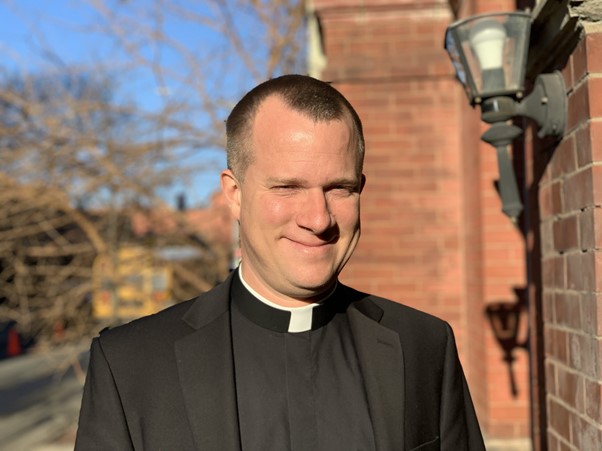 What led you to translate this book?
Austen Ivereigh initiated this adventure. During the first confinement, he wanted to ask the Holy Father about the unprecedented crisis that the world was going through. But this is not an interview book: the Pope wrote the text with the collaboration of Austen Ivereigh. Our task was to ensure fidelity to the original English text and certain theological aspects, while Natalia Trouiller provided the final French text's literary quality. The translation time was short (one month) and all the more intense as the Pope made many changes.
What stood out for you in this book?
There is a particular fireworks effect, as the subjects evoked by the Pope are so diverse. Moreover, we are not dealing with a magisterial document, and Francis can therefore give his opinion very freely on subjects as varied as faith, morals, society, the economy, and politics. There are even some rather frank passages.
He gives his opinion on the pandemic, the management of governments, the obedience of Catholics to the States' demands. As is often the case with Pope Francis, everyone gets a piece of the action. For example, he talks about his annoyance with Christians who are too rigid, with those who are too lax. There are some lovely pages on Christian morality, a morality that is neither moralistic nor legalistic.
He also mentions a subject he particularly likes: the notion of overflow. The mission to evangelize springs from an overflow of love, just like a volcano's fire overflows in eruption.
He also evokes his personal experience with the Covid, his moments of crisis. There is a very intimate tone in these pages; he does not hesitate to confide in us, to tell us about his encounter with Christ, his studies, his interrupted theology thesis. I was surprised that he tackles certain current subjects, such as George Floyd, the African-American man killed by a police officer in Minneapolis, whose death provoked riots and a wave of anger in the United States and throughout the world.
On several occasions, I was surprised by his freedom of tone. He goes back over certain controversies or reproaches that some people may have made to him, notably Amoris Laetitia.
There are some beautiful pages on the woman's vocation "ama de casa," a conception that mixes tradition and modernity. These pages are, in my opinion, among the most beautiful in the book. The Holy Father explains why and how he wanted to involve women more in the Church's government.
Why this title ?
The prologue begins with the words: "I believe that the times in which we live are decisive." And the Pope continues: "To enter into a crisis is to sift through it. In the course of life's trials your, own heart reveals: how solid it is, how merciful; how great or small it is."
The Pope says that our ways of thinking are shaken. Like Jesus going into the desert, this time is an opportunity for an outward and inward conversion.
In this book, he speaks from the heart, with a particular ardor, which is touching. He also takes up specific themes that are dear to him: the end of self-centredness, the priority of evangelization, service in the Church, to which we must not become attached, the unbridled search for self when Christ asks us to be in the gift of self.
The Church is not a citadel of purity, and the Pope warns against neo-Pelagianism or neo-Nognosticism (cf. Gaudete et Exsultate). We are at the service of the mission. The Pope warns us against a form of condescension and fear of the world. He also picks up on themes mentioned in Laudato Si': human nature cannot be omnipotent.
For me, it was an awe-inspiring experience to enter the head and heart of the Pope. Several times I was surprised by his outspokenness and asked Austen Ivereigh for confirmation that this was what Francis meant. On a personal level, this allowed me to grasp the originality of the Holy Father's thinking and be nourished by it even more.