We have heard "Love triumphs"! And it does!
Laetitia and Maarten tell us the story about their marriage and how Love triumphed amidst the lockdown times
Hi! We are Laetitia and Maarten from Belgium. We are 25 and 24 years old. Laetitia is working halftime in a social welfare center as an administrative assistant, which she combines with studying to become a social worker. Maarten is a geography and mathematics teacher in high school.
We met in May 2016, we were at the same folkloristic dance event. Maarten, like a real gentleman, kindly asked me (Laetitia) to dance with him and it was the most beautiful mazurka we both ever danced. Then she took the initiative by adding me (Maarten) on Facebook that same night. Some days later, we started chatting and dating.
So in total, we have known each other for four years now. It was only after six months of talking, going on dates, reflecting, hoping, doubting, praying (Laetitia) and discerning that we started our relationship in September 2016. We got engaged in August 2019.
You have set a wedding date some time ago, how did each one of you feel when you heard about the restrictions
Laetitia: It was a rollercoaster of emotions. We maintained a positive mindset for as long as possible, as we kept on hoping for an option to get married despite the increasingly worrying signals of an imminent lockdown. At the end of March, when it became clear that Catholic churches would not allow marriages, I was truly devastated. Everything we worked for during eight months of preparations suddenly failed. However, I continued praying with Psalm 23, which is the Psalm that we chose for the wedding and helped me putting it in perspective. We did realize that it would not mean the end of the world; many people all over the world were having a much more difficult time due to the corona pandemic than we did.
Maarten: That the civil wedding would take place was, luckily, never an issue. It was allowed with the attendance of the witnesses only, but for me it meant a lot that we would be able to start our lives together despite corona. Thanks to this, I didn't have the feeling that all our future plans crumbled down at our feet, although I remained quite concerned that restrictions would become worse and also civil weddings would not be possible anymore. So I consider us very lucky there. Eventually, three days before the civil marriage, we heard that our Bishop granted us a special permission and allowed us to marry before God, in a very minimalistic ceremony, without the Eucharist.
L: We were over the moon when we heard that news! For me, it was most important to receive the Sacrament of marriage so this meant a lot to me. We will have the wedding celebrations with family and friends later on.
Obviously, our families shared our concerns during the stages of uncertainty. They felt sorry that they could not be there with us, but via a very small live stream of the church marriage they could follow the ceremony from home.
The marriage ceremony was reduced to the absolute essence of the sacrament: the readings, blessing, our vows and exchange of the rings. That made it very intimate and beautiful, and I guess even more touching because we were very present in the moment.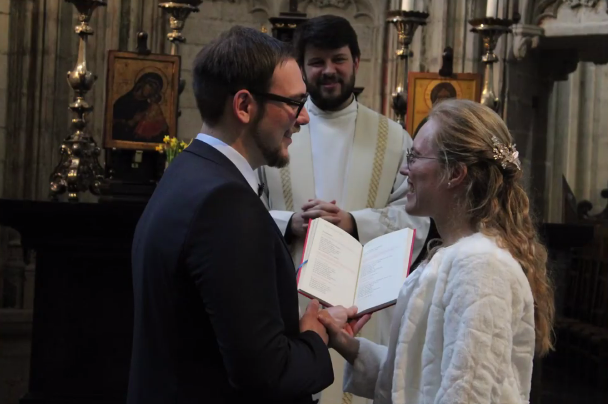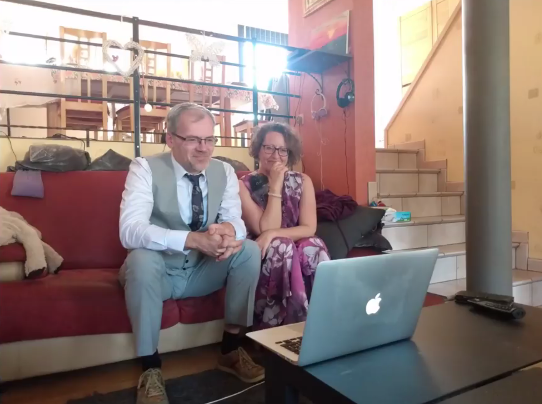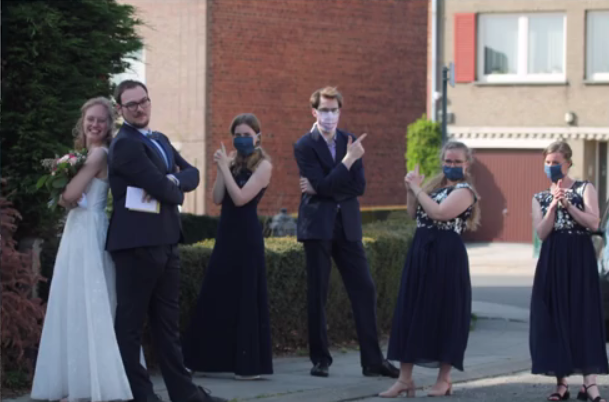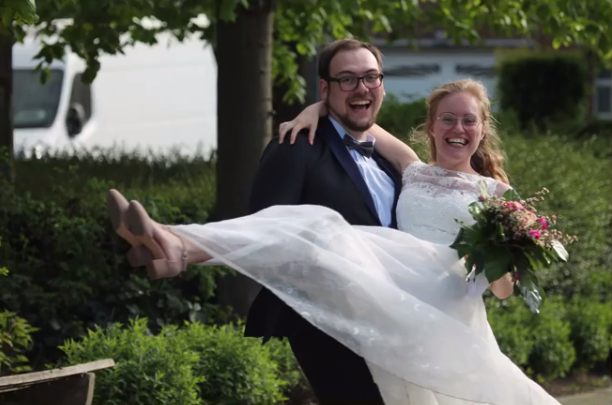 There was a tangible and visible joy … what/ who is the source of that?
M: Our love for each other and the excitement about the start of our lives together filled me with joy. It became a truly fantastic day, even with the forced absence of our friends and families, and I felt so lucky that even in these difficult and unprecedented times I could marry the love of my life!
L: God has shown that He always cares for us. In the end, things always work out the way they're supposed to be, and our marriage is no exception to that. I was so happy to, against all odds, marry my best friend in the whole world and have God watching over us. It was a perfect day and we could feel the prayers and thoughts of our loved ones, even though they were physically not with us.
What is your message (of joy, hope, …) as a young couple?
This adventure was for us an important lesson to not worry, but to trust in the Lord that everything will work out well. We couldn't express it in any better way than Matthew, the Evangelist, did in the Gospel reading we chose for our wedding ceremony:
"Therefore I tell you, do not worry about your life, what you will eat or drink; or about your body, what you will wear. Is not life more than food, and the body more than clothes? Your Heavenly Father knows that you need them. But seek first His kingdom and his righteousness, and all these things will be given to you as well. Therefore do not worry about tomorrow, for tomorrow will worry about itself. Each day has enough trouble of its own." (Mt 6, 25-34)