Father Kornél Fábry will be ordained bishop on September 2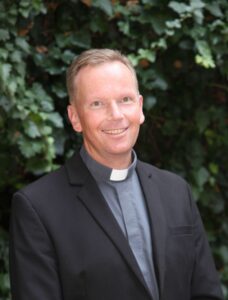 Kornel Fábry is hungarian and has just been appointed auxiliary bishop for the diocese of Esztergom-Budapest. Priest of the Emmanuel Community since 2000, he is now 51 years old. Marked by his years of service to the Eucharistic Youth Congress, he has chosen as his episcopal motto: "In you, all our sources" Psalm 86 (87), 7.
"It's a text that I prayed and meditated on a lot when I was in charge of the Eucharistic Youth Congress. The Eucharist is the source, and Jesus is the source."
Despite his appointment as bishop, Father Kornél intends to continue cultivating his closeness to the Community: "Insofar as my episcopal duties allow, I will continue to rely on my brothers and sisters as I have always do" he explains, before adding: "I thank everyone for their prayers".
His career in brief
1995: Enters the seminary

1996: Joined the Emmanuel Community

2000-2001: Ordination to the priesthood – Vicar at St Nicolas des Champs in Paris – Theology degree

2001-2003: Vicar in a parish in his diocese 200 km from Budapest, south of Lake Balaton

2003-2008: Rome – Doctorate in biblical theology and thesis

2008-2016: Parish priest

2016 – 2022: Secretary General of the International Eucharistic Congress in Budapest

2021: Appointed Director of the Hungarian Pastoral Institute and coordinator of the Jubilee of 2025

April 2023: Responsible for organising Pope Francis' visit to Hungary

June 2023: Appointed Titular Bishop of Guardialfiera (an Italian diocese for which he has a purely honorary title) and Auxiliary Bishop of Esztergom-Budapest.
The church in Hungary
17 dioceses
About 1700 priests
¾ of the population is baptised
2/3 of the baptised are catholic
7% of the population is religious
The Emmanuel Community in Hungary
184 members
2 priests and 2 deacons
1 consecrated in celibacy for the kingdom