In this beginning of Advent, let us read this excerpt from a teaching by Pierre Goursat (founder of the Emmanuel Community) on the expectation of the coming of the Saviour.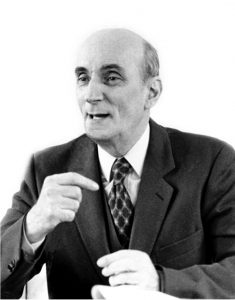 So let's not be like those who say, "We're in the last days, it's about to happen in a few days." We are in the last days since 2000 years. You do not really care on how it's going to happen, you know that Jesus is in your heart and that it is He who will come. All you can do is to hasten this coming by praying, by sacrifices, so that the Kingdom of the Lord might come. That's the essential. So let's be little children, because deep down everything is very simple with him and in joy.
(…)
"I, Jesus, sent my messenger to announce these revelations to you." We really have to believe this. Believe that it's the true victory, that Jesus is fantastic, and that we are truly victorious with him. And that everything else is cheap plonk. That's why even if we suffer, the Lord is here to help us. So do not let yourself be crushed by the suffering of others. Pray, but remain in joy. For in a mysterious way, when you pray, Jesus gives strength to those who suffer without you knowing it. Believe it, because otherwise, all that remains is despair.
"I, Jesus, sent my messenger to announce these revelations." And the revelations, tare amusingly topical right now. "I am the offspring of the line of David, the bright star of the morning." That's it! One must be radiant like him because one is enlightened by him.
"The Spirit and the bride say, 'Come'. Let him who hears say, 'Come'. May he who thirsts come and let him who desires, receive the Water of Life for free. Yes, I come without delay. Oh yes, come Lord Jesus. "
Let's say together, "Oh yes, come Lord Jesus!" Amen! Hallelujah!
Excerpt from a teaching given in Vézelay (France) July 1974
---
Know more about Pierre Goursat
Visit the page Pierre Goursat and his cause of canonization.

---
A movie about the life of the founder of Emmanuel Community (English subtitles)
This post is translated from "Pierre Goursat nous enseigne sur l'Avent"