E-BANK OF TESTIMONIES AND IDEAS
Your stories, ideas, acts of kindness ... will give life to this page - share them!
We're counting on you!

THANK YOU!
To look up to God and know He is lovingly watching over us is a joy and a comfort at any time, but especially now when so many of us can't even enter a church to pray in the presence of His Real Presence.  In our parish, we went through phases of how we could still let individuals come into the church and pray near the Lord in the Tabernacle after the public celebration of Mass was suspended.  We roped off big sections of the church, because we didn't have enough sanitizer or appropriate wipes to regularly clean the entire church.  We made great efforts to monitor where people went, and which pews they touched with their hands or what candle lighter they used in order to know where to sanitize after each individual.
So, when Cardinal Sean O'Malley OFM Cap. made it possible for people to adore Our Lord from their cars, we jumped at opportunity!  The instruction states: "Priests are able to place the monstrance with the Blessed Sacrament in the window of the rectory if it is feasible for those to pray and view the monstrance only from their cars in the Church parking lot.  A priest must be present in the rectory while the Eucharist is displayed but I give permission in these cases for the Eucharist to be exposed without an individual immediately present."
We now have daily Eucharistic Adoration from the top floor rectory window at morning (8-9:30am), noon (12-1pm) and night (9-10pm).  There are a few cars there each time, but it is by night that He is easiest to see and most beautiful to behold!  His true beauty surpasses what we can see with our human eyes, but even what is visible is suitable for contemplation.  Take a moment even to pray while looking at these beautiful photos of Our Lord watching over us. God bless!
Fr. Sean Maher (MA)
*source: http://emmanuelcommunity.com/testimony/our-lord-watching-over-us/
An Act of Spiritual Communion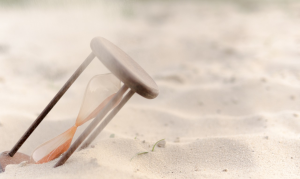 My Jesus,

I believe that You are present in the Most Holy Sacrament.
I love You above all things, and I desire to receive You into my soul.
Since I cannot at this moment receive You sacramentally, come at least spiritually into my heart.
I embrace You as if You were already there and unite myself wholly to You.
Never permit me to be separated from You.
Amen.
Prayer to the Holy Spirit