CYPRIEN AND DAPHROSE
RUGAMBA
On April 7, 1994, Cyprien and Daphrosa Rugamba, the Founders of the Emmanuel Community in Rwanda, were killed with six of their 10 children in their house of Kigali after an evening of prayer in front of the Blessed Sacrament. The couple bravely stood against their country's ethnic division. Even while knowing the dangers Rwanda faced, Cyprien and Daphrosa courageously chose to stay in their country being faithful to their mission. Cyprien and Daphrosa served as witnesses to the world of God's triumphant love for us. The cause of their beatification was opened in September 2015.
Cyprien Rugamba was a renowned intellectual and artist in Rwanda. He was an author, poet, composer, and choreographer known for showcasing the vast richness of Rwandan art. To this day his songs are still well known and deeply rooted in the heritage of Rwanda.
Before his successful career and rise to fame, however, Cyprien was sent to the seminary.
Without much spiritual motivation, during his time there he lost his faith. This was mainly as a result of discovering the writings of certain existential philosophers who wrote against the Church's teachings as well as being shocked to discover various scandals of his fellow seminarians.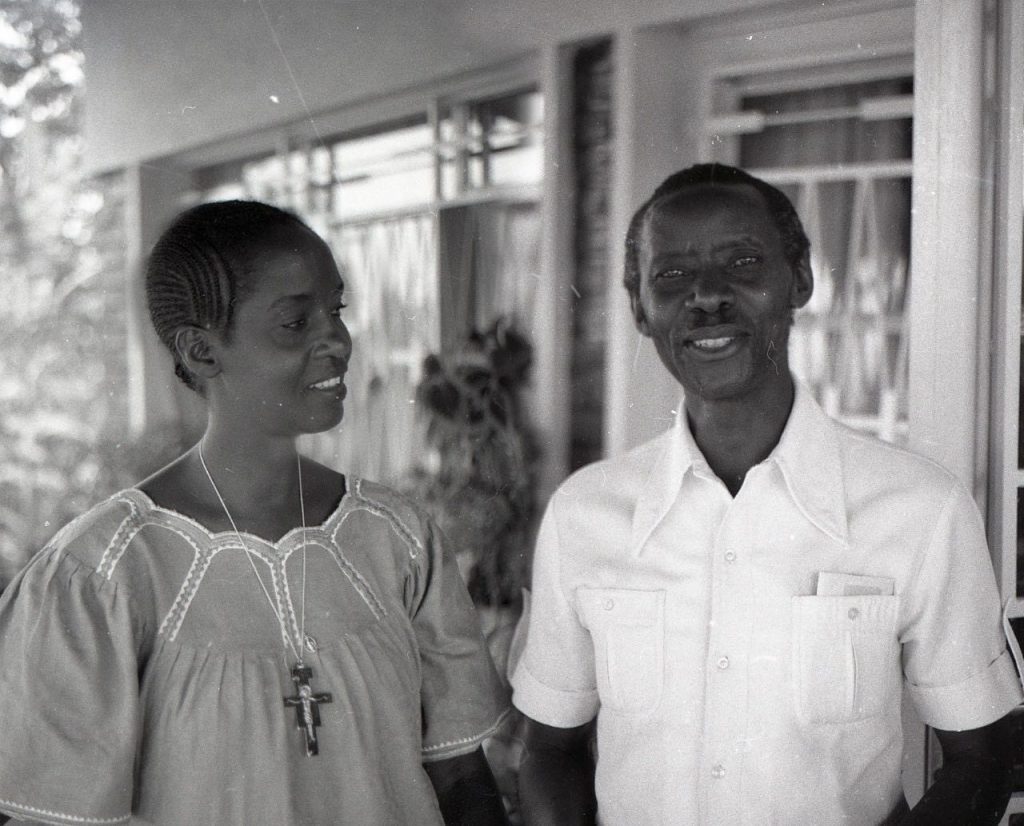 After leaving the seminary he began new studies in Belgium and from there went on to have a successful career working in administration for the Rwandan government. He helped establish a Rwandan cultural center that focused on not only preserving but also encouraging others to continue creating, traditional Rwandan art.
This focus on saving traditional art, which was on the cusp of disappearing due to colonization, gave Cyprien a high level of recognition in society – he was seen as a champion of the arts.
Cyprien was engaged to be married to his great love, Xaverina Mukahigiro. But tragically in 1963, she was killed with several members of her family. In order to honor the engagement, he had made to her family, Cyprien asked Xaverina's cousin, Daphrose Mukansanga, for her hand in marriage.
In 1965 Cyprien married Daphrose, a young woman with a strong devotion to prayer. For the first 17 years, their marriage faced great difficulties which led to the couple separating for several months. Cyprien was ready to renounce Daphrose as his wife, but after eight months the two reconciled and reunited. However, Cyprien continued to be unfaithful to his marriage, had extramarital affairs and even a child out of wedlock.
In addition to this, Cyprien had a radical disdain and atheism towards his wife's Christian faith. This caused enormous suffering to Daphrose, but despite her husband's actions she strongly believed in the sanctity of marriage and remained faithful to her Christian faith. With Cyprien's consent, she would bring her ten children to Mass, praying patiently and unceasingly for the conversion of her husband.
The Conversion of Cyprien
In 1982, Cyprien fell gravely ill, Doctors were unable to diagnose his illness and Cyprien feared for his life.
During his illness, Cyprien began to write a song about his death, and during this moment his heart was flooded with the Holy Spirit, and he believed in the existence of God and that God was waiting for him. At this moment, Cyprien knew that this experience happened because of his Daphrose's faithful prayers.
This experience led him to a radical conversion in all aspects of his life and especially his marriage.
After this moment, Cyprien asked Daphrose for forgiveness for all of the sufferings he had caused her. She accepted and their marriage was restored and renewed. Those who were around new couple were astounded by how they now radiated joy and tenderness. With this renewed joy they did not just keep in between themselves but instead they became more open to the service of others. The welcomed everyone from the rich to the humblest.
The once arrogant and closed off man, Cyprien, transformed into a humble and welcoming, faithful husband, who was open to everyone and welcomed everyone.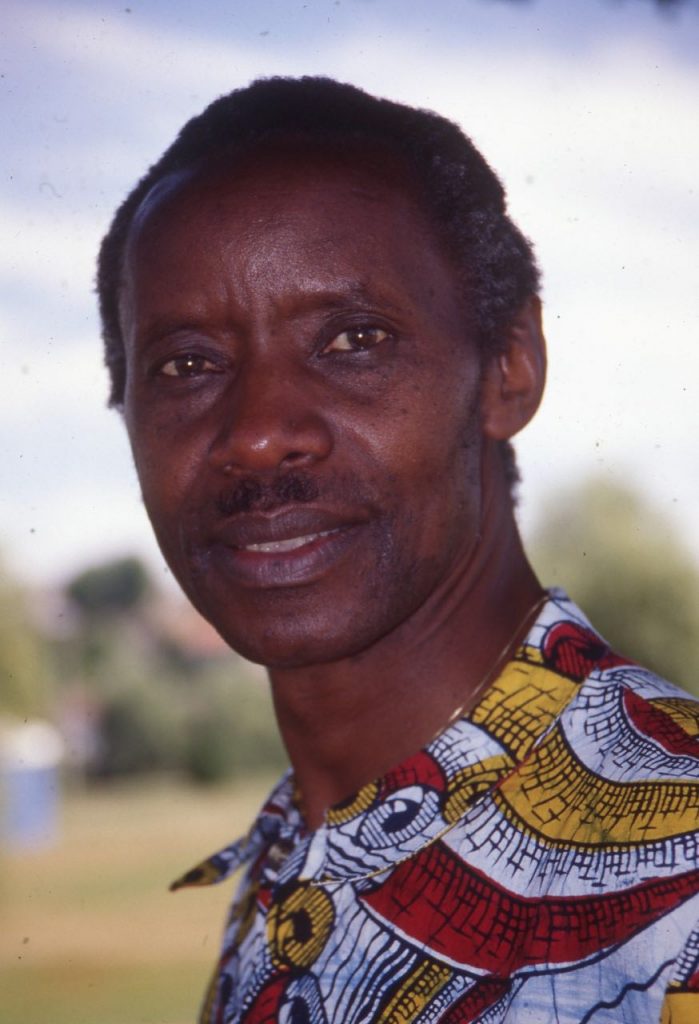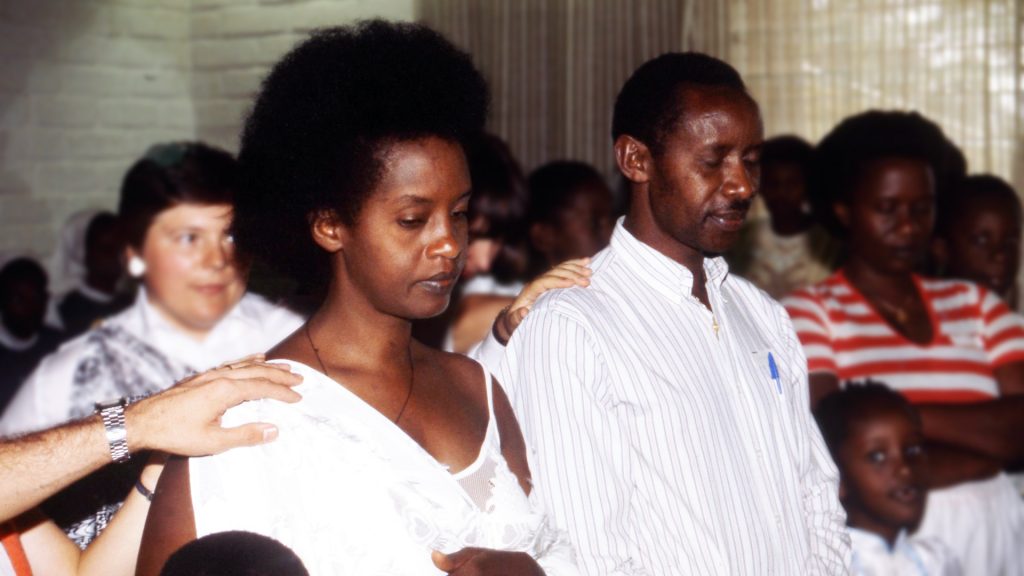 In 1989, Cyprien and Daphrosa discovered the Emmanuel Community by making friends with people who were volunteering at FIDESCO. On September 23, 1990, they founded the Emmanuel Community in Rwanda.
Now living their lives deeply rooted in the graces of the Emmanuel Community through Adoration, Compassion, and Evangelization, Cyprien, and Daphrose fully gave themselves to the mission of growing this community. It is due to their passion and dedication towards the community that allowed it to grow so rapidly in Rwanda, even in the midst of a tense political climate.
The importance of unity in Rwanda became even more necessary as the ethnic tensions between Tutsis and Hutus rose. The Community was one of the few places that brought together members of different ethnic groups, into one fellowship centered around Christ. This was the goal of Cyprien, he never differentiated between Rwandans and insisted on this brotherhood:

Using his influence Cyprien called for the end of radio stations broadcasting murders, as well as removing the indication of ethnic groups on identity cards. Their commitment to united between the two groups placed Cyprien and Daphrosa at the top of the list of people to be assassinated. On the morning of April 7, 1994, the first day of the genocide, they were murdered with six of their children after a night spent praying before the Blessed Sacrament.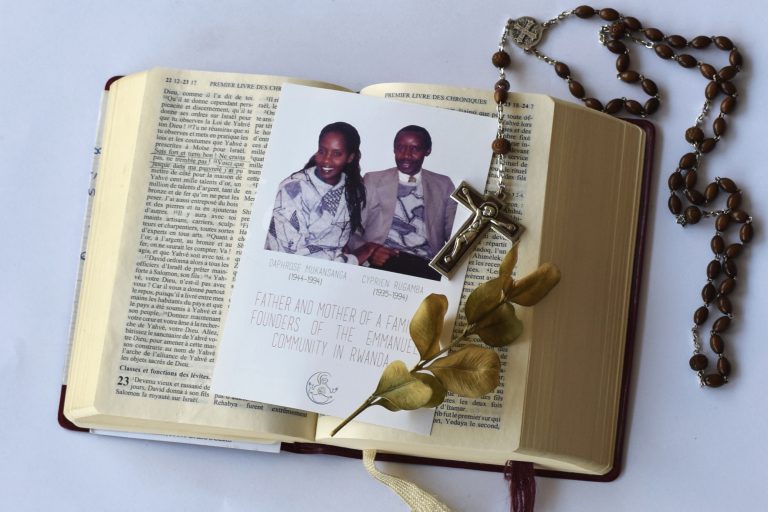 Their lives on earth were unjustly ended by evil, but evil did not win the morning Cyprien, Daphrosa and their children died. The lives of the Rugumbas and the hope their story can bring outshines the darkness that surrounded their death. Their lives serve as a testimony that God can convert hearts like Cyprien, He answers the faithful prayers like those of Daphrosa, and the Mercy of Jesus can restore any marriage. Cyprien and Daphrosa are an example that holiness is possible, faithfulness is fruitful, and love is always victorious over evil.
Today the Community they founded is the second largest Emmanuel Community in the world. This was the vision Cyrpien had, to establish a community where Rwandans can come together not divided by their ethnic groups but as one brotherhood, the party of Jesus.
Cyprien's work art, his songs, dances, poems, books are considered a staple of Rwanda culture, still, to this day he is remembered in Rwanda for his artistry.
The charity started by Daphrosa's love for street children still exists and children of the street being cared for with the same love and charity she once gave.
Their lives have touched so many that their causes for beatification were opened in September 2015.
Holy Father,
We pray for the beatification of the servants of God Cyprian and Daphrosa. Give us to always have, like them, an incessant zeal for adoration, a heart burning of love for you and an active compassion for all who suffer.
Help us to give ourselves freely for the evangelization of the families and the poor.
In communion with Cyprian and Daphrosa, we entrust to you especially couples who experience marital difficulties and people who are struggling to forgive their enemies, and we ask you to make us instruments of peace. Through the intercession of these Servants of God, we ask you, Lord, according to Your will, the grace of ………………………
(a prayer is expressed)
Lord, grant us peace and the grace that we ask in faith. Amen
On September 18, 2015, the causes of canonization of Cyprien Rugamba and Daphrosa Mukasanga were opened by Archbishop Thaddée Ntihinyurwa of Kigali. This is the first trial for a beatification of Rwandans.
During the diocesan inquiry, the first part of a cause of canonization, the postulator of the cause, (here Dr. Waldery Hilgeman assisted by two vice-presidents, François-Xavier Ngarambe and Brother Reginald D. Cruz CFX) tries to show that the life of the servant of God attests to his heroic virtues and enjoys a reputation for sanctity, while the promoter of justice (formerly known as 'devil's advocate') ensures that the opposite can not be proved . The instruction Sanctorum Mater specifies all the modalities of the diocesan process.
The commission in charge of this inquiry is composed of Father Jean-Bosco Ntagungira, Episcopal Delegate for the Cause, Father Martin Uwamungu, Promoter of Justice; and two notaries Edith Kayitesi and Donatila Mukeshimana.
YOU CAN DOWNLOAD THE PRAYER FOR THE CANONIZATION IN THESE LANGUAGES